Greetings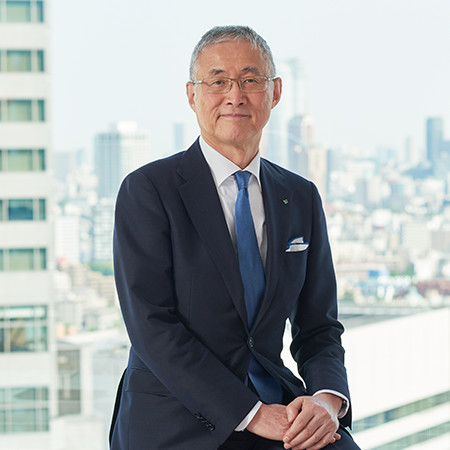 In the second half of the twentieth century, Japan achieved economic growth by striving toward bold, clear goals as it recovered from the devastation of the War and went on to become a leading industrial nation with the second largest economy in the world. These decades saw remarkable progress in the technologies used not only in public works such as railways, roads, water and sewage systems, but also in commercial buildings, housing, and related construction sectors, while at the same time creative design ideas offered city dwellers a greater variety of choice. Thus, as I see it, Japanese society has found answers to a good many of the physical problem involved in the components of urban living.
Since the 1990s, however, economic growth has stagnated and, faced with social changes such as an aging society, falling birthrate, and declining population, together with the rise of China and other developing nations that are closing the gap, Japan today has lost sight of its goals for the future. We are on the verge of becoming a dispirited society that lacks a rich sense of mental and spiritual well-being.
The Obayashi Foundation's Mission Statement recognizes balance in the creating of cities that foster affluent lifestyles. This is an important perspective for all who seek a sound future for Japan, and we are committed to play our part in realizing communities that are truly vibrant places for people to live, by promoting the advancement of research related to cities through our support of scholars dedicated to the study of urban functions and culture.
Takeo Obayashi
Chairman of the Board
The Obayashi Foundation
Mission Statement
The Obayashi Foundation was established on September 22, 1998, to support comprehensive, interdisciplinary research related to cities.
Throughout the second half of the 20th century after the end of World War II, Japan underwent dramatic development as an industrial society. That led to a heightened concentration of the population in urban areas, which in time gave birth to transportation congestion, serious housing problems, and profound changes to the natural environment. As a result, cities now lack many of those qualities that are essential to enriching the lives of individuals.
In the 21st century, we face the urgent task of creating cities that offer urban convenience as well as place a high priority on human sensibilities. If we are to foster affluent lifestyles for our citizens, we need to put our energy into city-building efforts that are not focused exclusively on economics and are not geared only toward the creation of monumental structures that boast the latest technology and office buildings whose sole goal is functionality. The times require city building that strives to create communities that are vibrant places for people to live-places that incorporate cultural facilities and place priority on developing beautiful cityscapes.
In order to create such cities, there are many issues that must be resolved, and technological R&D is a necessary component of such resolution. Crucial to that effort will be research into ways to harmonize urban structures and functionality with culture and the environment. Comprehensive, interdisciplinary research must be promoted now, and priority research support from the private sector is imperative. The Obayashi Foundation -which has the backing of people from a variety of related fields-was established to provide that kind of research support.
I ask for your kind support of our endeavors.
September, 1998
Yoshiro Obayashi
Founder
The Obayashi Foundation
Outline of Activities
The Obayashi Foundation performs the following:
1. Supports scholarly research related to cities;
2. Encourages the invitation of foreign researchers engaged in scholarly research on cities and the dispatch of Japanese researchers overseas;
3. Supports the holding of international conferences, research meetings, symposiums, seminars and other gatherings related to cities;
4. Holds scholarly lectures, exhibitions, seminars and other events related to cities;
5. Supports artists who make research or proposal on cities from new perspective;
6. Presents awards to researchers who post outstanding achievements in scholarly research and other activities related to cities;
7. Provides financial support in the form of tuition payments and grants to Japanese and international students who intend to pursue careers in fields related to cities, whether in industry, business, or scholarly research;
History
Date of Establishment

September 22, 1998

Change of Name

On September 16, 2011, the Foundation changed its name in Japanese
Access
KONWA BLDG, 13F,1-12-22,Tsukiji, Chuo-ku, 104-0045, Japan