Obayashi Prize

Recipient of the Eleventh Obayashi Prize
(2020)
Mr.Olafur ELIASSON
Artist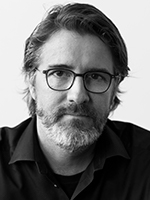 Photo: Brigitte Lacombe, 2016
© 2016 Olafur Eliasson
Born in 1967. From 1989 to 1995, studied at the Royal Danish Academy of Fine Arts. In 1995, he moved to Berlin and founded Studio Olafur Eliasson, which today comprises a large team of craftsmen, architects, archivists, researchers, administrators, cooks, programmers, art historians and specialised technicians.
In 2020 the Museum of Contemporary Art Tokyo (MOT) is presenting Eliasson´s most recent solo show Sometimes the river is the bridge.
He lives and works in Copenhagen and Berlin.
Reason for receiving the prize
With a firm belief that art and design have the power to change the world, Olafur Eliasson has been creating awareness-shifting experiences, which in turn, have inspired people to take concrete actions to resolve urgent urban issues, such as the issues of the environment and poverty. The Obayashi Prize commends Mr. ELIASSON for such exceptional achievements through his creative activities and various remarks he has made over the years.