Obayashi Prize

Recipient of the Seventh Obayashi Prize
(2012)
Mr.Antony GORMLEY
Sculptor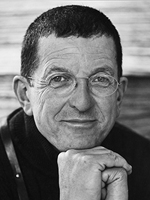 ©Lars Gundersen
Born in 1950 in London
In a career spanning nearly 40 years, Antony Gormley has made sculpture that explores the relation of the human body to space at large, explicitly in large-scale installations like Another Place, Domain Field, and Inside Australia, and implicitly in works such as Clearing, Breathing Room, and Blind Light where the work becomes a frame through which the viewer becomes the viewed. By using his own existence as a test ground, Gormley's work transforms a site of subjective experience into one of collective projection.
Gormley was awarded the Turner Prize in 1994, the South Bank Prize for Visual Art in 1999, and the Bernhard Heiliger Award for Sculpture in 2007. In 1997 he was made an Officer of the British Empire (OBE). He is an Honorary Fellow of the Royal Institute of British Architects, an honorary doctor of the University of Cambridge, and a fellow of Trinity and Jesus Colleges, Cambridge. Gormley has been a Royal Academician since 2003 and a British Museum Trustee since 2007.
Reason for receiving the prize
Antony Gormley is a British sculptor born in London in 1950. As his biography shows, his work is acclaimed around the world, and he continues to create new sculptures.
From an urban planning perspective, his most notable work is Angel of the North, erected in the Newcastle Gateshead area. The local economies of these Tyneside cities long relied on heavy industry, but the decline of coal mining in England brought an economic downturn and triggered efforts to revive the area through the creation of new industries.
In the early 1990s, local authorities decided to place cultural assets at the core of their urban revitalization plans, and Angel of the North was one of the first projects launched under this initiative. Completed in 1998, the gigantic Corten steel sculpture is 20 meters high with a wing span of 54 meters. In addition to attracting more than 100,000 tourists to the area each year, as a flagship for regional regeneration Angel of the North paved the way for other symbolic structures including the Millennium Bridge (opened in September 2001), the BALTIC Centre for Contemporary Art (opened in July 2002), and the Sage (a music and arts center opened in December 2004).
Sculptors are generally assessed on the basis of their artworks, but Mr. Gormley's work requires an understanding of not only the sculpture itself, but also the conceptual background of how the human body relates to space at large. The spaces he deals with range in scale from atomic to cosmic, but needless to say his thoughts extend to the natural environment and cities, which exist in the space between those two extremes.
As cities are formed, they give birth to ideas and cultures; conversely, ideas and cultures create cities. Mr. Gormley's ideas and works have had a major impact on urban regeneration, and we believe they inspire and provide a new vision to architectural designers and researchers involved in urban planning.