Obayashi Prize

Recipient of the Eighth Obayashi Prize
(2014)
Ms.Kathryn GUSTAFSON
Landscape Architect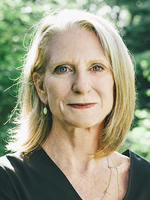 Kathryn Gustafson brings over 30 years of distinguished practice to her partnerships in two offices, Gustafson Guthrie Nichol in Seattle and Gustafson Porter in London. Kathryn's diverse portfolio intuitively incorporates those fundamental sculptural and sensual qualities that enhance the human experience of landscape.
Her early work includes a widely known series of projects in France, with recently acclaimed projects located throughout Europe, North America, Africa, Southeast Asia, and the Middle East. These civic parks, gardens, and community spaces range in scale from a tenth of an acre to 1000 acres.
Kathryn is only the third landscape architect to have received the Arnold W. Brunner Memorial Prize in Architecture from the American Academy of Arts and Letters. She is an Honorary Fellow of the Royal Institute of British Architecture and a medalist of the French Academy of Architecture. She is also the recipient of the ASLA Design Medal, the Chrysler Design Award, and London's Jane Drew Prize. Along with her partners at Gustafson Guthrie Nichol, Kathryn received the Smithsonian's Cooper-Hewitt National Design Award for Landscape Architecture.
Reasons for Award
During her career Ms. Kathryn Gustafson has contributed numerous works to the world of landscape architecture. By perceptively reading the ecological, cultural, and historical attributes of the land and sculpting spaces that evoke a sense of unity with the site, her works let those who gather there feel physically and spiritually at one with the land, promoting integration of people and space and creating places that enrich our lives. The key to her skill lies in making the most of the special allure of the land to craft a new place, rather than simply continuing to remodel spaces with no regard to what has gone before.
More than half of the world's population now lives in cities, and in Japan population decline is predicted to result in urban degeneration. Such changing times present cities with an increasingly diverse range of issues, and it will be more important than ever before to shape sustainable cities centered around spaces where people can lead lives that are rich in social, cultural, ecological, and economic terms. In this context Ms. Gustafson's ideas, which focus on designing landscapes and places to revitalize our relationships with the spaces around us, have had a profound impact on people involved with various aspects of cities. Her many achievements based on these concepts help to fulfill the mission of our foundation and are truly worthy of the Obayashi Prize.