Obayashi Foundation Research Program

2017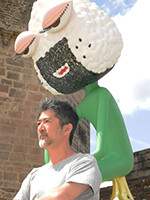 Courtesy Mizuma Art Gallery
Mr.AIDA Makoto
Born 1965 in Niigata. In 1991 he graduated from the Tokyo University of the Arts' Fine Art Department with a BFA and a MFA in oil painting. Moving freely to and from between society and history, across the borders between contemporary and pre-modern, east and west with a body of work that includes pretty young girls, war paintings, and salarymen, Aida's distinctive style featuring bizarre contrasts and scathing critique has earned him a sizeable following among people of all ages. His works in such varied fields as painting, photography, film, sculpture, performance, installation, literature and manga have been exhibited widely both within Japan and abroad.
Significant solo exhibitions in recent years include "Monument for Nothing" (Mori Art Museum, Tokyo, 2012-13), "So, this is what they call 'Still Alive'" (Niigata Prefectural Museum of Modern Art, 2015), and "Let us dream of evanescence, and linger in the beautiful foolishness of things." (Mizuma Art Gallery, Tokyo, 2016).
Comments from the Chairperson of the Selection Committee
What sort of vision for the city would an artist come up with? Supporting such a project has a forward-looking, future-oriented feel to it; in fact, I think it is quite radical. The time when a utopian creativity was popular no longer exists; today, economic and administrative rationale pervades every aspect of the city. If we want to know the sort of city an artist might envision, one that dares to give expression to an individual's sensitivity, it would be completely different, I believe, from what the national or local government or a business would design. In our urgent pursuit of coexistence with others and harmony with the global environment, shouldn't we entrust our hopes and dreams to such a vision? With these ideas in mind, the selection committee members proposed the names of many artists and selected the one most suitable for this project. Our discussions ranged widely over many aspects from past works to generational differences, but among them I think everyone agreed on the choice of Makoto Aida for its radicalness. I am confident that Mr. Aida's selection as the first person to receive this new form of support for artistic creativity will strongly communicate the message this project has and will continue to have.
Fumihiko Sumitomo
Director, Arts Maebashi
Associate Professor, Tokyo University of the Arts,
Graduate school of Global Arts