Obayashi Foundation Research Program

2019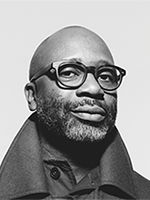 Photo: Rankin
Mr.Theaster Gates
Theaster Gates was born in Chicago, Illinois, in 1973. Drawing from his training as an urban planner and a potter, the artist redeems buildings, urban landscapes and material that have been left aside and, as such, tease out the politics of making as part of his practice. Known for his recirculation of art-world capital, Gates creates work from the focuses on the possibility of the "life within things," smartly upturning the question of value(s) while also pondering by demonstrating the complexity of Black space as a formal exercise – one defined by collective desire, artistic agency, and the tactics of a pragmatist.
■Major Exhibitions
2019
The Black Image Corporation, Gropius Bau (Berlin, Germany)
Amalgam, Palais de Tokyo (Paris, France)
2018
The Black Image Corporation, Fondazione Prada (Milan, Italy)
Black Madonna, Sprengel Museum (Hannover, Germany)
Black Madonna, Kunstmuseum (Basel, Switzerland)
2017
In the Tower, National Gallery of Art (Washington, DC, USA)
2016
How to Build a House Museum, Art Gallery of Ontario (Toronto, Canada)
Black Archive, Kunsthaus Bregenz(Bregenz, Austria)
True Value, Fondazione Prada (Milan, Italy)
2013
Soul Manufacturing Corporation, Whitechapel Gallery (London, UK)
Prima Materia, Punta della Dogana (Venice, Italy)
2012
dOCUMENTA (13) (Kassel, Germany)
■Major Awards
| | |
| --- | --- |
| 2018 | Nasher Prize for Sculpture, Urban Land Institute, J.C. Nichols Prize for Visionaries in Urban Development |
| 2017 | Kurt Schwitters Prize, French Legion d'Honneur |
| 2014 | Artes Mundi |
■Major Permanent Collections
Kunstmuseum Basel, Art Gallery of Ontario (Toronto, Canada), Los Angeles County Museum of Art, Museum of Contemporary Art Chicago, San Francisco Museum of Modern Art, Smithsonian American Art Museum (Washington, DC, USA), Tate Modern (London, UK), and the Whitney Museum of American Art (New York, USA), among others.
Comments from the Chairperson of the Selection Committee
It is difficult to forget my first experience of a work by Theaster Gates. I had climbed the stairs of a run-down block of flats and entered a room where old building materials, wallpaper, and other salvage had been carefully rearranged in the previously empty space. While I was taking my time looking at the patterns and shapes, I was offered a cup of herbal tea as a friendly gesture. I was tired from walking all over the city of Kassel, Germany, and the tea soothed me. Entering another room, I heard someone singing. The sound of blues and jazz floated toward me, emotionally charged, yet played at a volume that blended with the atmosphere in the space. The experience felt both intimate and very comfortable.
Soon after, I looked into the Dorchester Projects that Gates initiated in Chicago. A signature work, the project restores buildings and operates community programs that attract people of all ages from the local neighborhoods, but above all I was astonished to discover that Gates visits Japan nearly every year to make pottery. What in the world is the connection between pottery-making in the Tokoname region and the creation of spaces and works that embrace the identity of an African-American living in Chicago? In today's society where powerful capital can devastate the soul of an individual, Gates' work encourages people to be productive and revives the ties in the community. Perhaps this is how he is able to easily overcome the differences between people.
The members of the selection committee anticipate seeing proposals and projects for Japan that go beyond pottery. These days, Gates travels all over the world, but what kind of vision of the city will he present in a country he surely knows quite well? We know it will be different from the work presented by Makoto Aida, the previous recipient of the grant, and we very much look forward to finding out how Theaster Gates will expand the potential of the Obayashi Foundation Research Program.
Fumihiko Sumitomo
Director, Arts Maebashi
Associate Professor, Tokyo University of the Arts,
Graduate school of Global Arts